ARTIST STATEMENT
"I paint from and with a sense of peace and tranquility; my paintings reveal my emotional attachment to the landscape wherever I choose to paint. They are filled with hope and abundance, fulfillment and joy. They are realistic, though not romantic and meditative in temperament. They may contain evidence of human presence, but only occasionally do they contain people. I can think of nothing more perfect than Mother Nature's earthly setting to paint. She provides all of us with a beautiful gift every day – the gift of a thriving, bountiful and inspiring home.
I want to present to you, through my paintings, a profound reason to protect and preserve our awesome planet forever."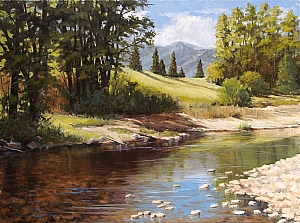 Wade in the Water 18 x 24 Oil
Top 60 Jurors' Award at Salon International 2010
Finalist in RayMar Online Art Contest, December 2009
Juror, Cathy Dietrich, for RayMar Art Contest said,

"This exquisite graceful composition invited me inside to rest and linger. Wade in the Water is sensitively painted and shows off the artist's understanding of the integrity of the natural forms. We all know art can affect us…well, within seconds a sense of calm wafted over me. Perhaps the artist might distribute prints to stress management centers! The sleepy stream fills nearly half the canvas; however, underlying the overall tranquility each area of the painting is imaginatively rendered. And at first glance appearing photographic, the scene is actually composed of impressionistic abstractions. Some favorite resting spots are the rust colored rocks beneath the clear waters, the horizontal blue stream streaks guiding me to the sky reflections and then upward to the sky holes in the trees. Gorgeous!"
BIOGRAPHY
As a young woman in search of a summer holiday away from the big city, Ginger Whellock loaded up her car and began two months of wilderness camping with her two young children across Colorado, Wyoming, Utah, Montana, Idaho, Oregon and Washington. Together they fell in love with the west and within a year were on their way to a new life on a remote cattle ranch in Montana. In this wild place surrounded by mountains, a huge sky and miles from civilization, she grew captivated by the broad western panorama. Today her paintings speak gently of her sensitivity to that landscape.
Though she admits to being a fair-weather plein air painter, during the warmer months you will find her heading out with portable paint box in search of a good composition. Back in the studio, she paints more complex and larger paintings using her plein air sketches, a large selection of personal photos and a rich emotional memory. Each painting projects a soul of grace, hope and peace. She gently pulls us into her paintings and invites us to join her in her journey. We can feel the breeze on our faces and the sun on our shoulders; we take in the fragrance of the land and share with her the quiet harmony of nature.
Ginger suggests that painting water creates her biggest challenge and her greatest sense of satisfaction. "To paint water one must first study the science of water then learn how to transfer that knowledge into accurate, emotional brush strokes of color, reflection and translucency. Not an easy task.", says Whellock. She finds painting water a fascinating, meditative experience, which she hopes others feel when viewing her paintings.
Ginger is currently represented by Arts at Denver of Denver Colorado, Mary Williams Fine Art of Boulder Colorado and CW Gallery of Fine Art of Rogers, Arkansas. Ginger has earned Signature Membership in Women Artists of the West, PaintAmerica Society and Pastel Society of Colorado. Her work has been selected for editorials in Southwest Art, American Art Collector, Western Art Collector, Wildlife Art and International Artist. She has participated in major shows including Stampede Western Invitational, Art for the Sangres, Representing the West, Panhandle-Plains Museum Invitational, American Impressionist Society, Women Artists of the West, Oil Painters of America, Richard Schmid Fine Art Auction, South Eastern Wildlife Exhibition, Mt Oyster Club Art Show, Mary Williams Quick Draw, Salon International, PaintAmerica, Paint the Parks and Colorado Governor's Show, among others.
Please visit her website at www.gingerwhellock.com. Her studio, located in her home in Castle Pines Village Colorado, is open to collectors, interested gallery owners and artists by scheduled appointment.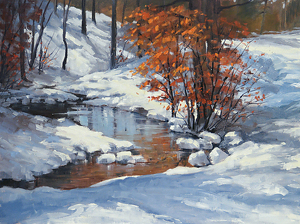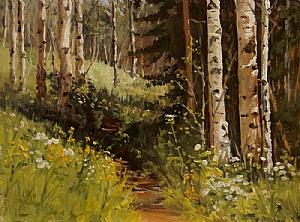 Winter Arrives Early 12 x 16 Oil (SOLD) Aspen Trail 9 x 12 Oil (SOLD)
BOLD BRUSH FAV 15% for November 2009 BOLD BRUSH FAV 15% for January 2011
AWARDS and HONORS
Signature Member, Women Artists of the West, 2012
First Place People's Choice Award, Wild About Colorado, 2012

Paint the Parks Top 100 Winner 2010
Salon International, Top 60 Jurors' Award 2010
RayMar Art Contest Finalist December 2009
Bold Brush Painting Competition FAV15 Winner November 2009 and January 2011
Associate Member, Oil Painters of America 2009
Associate Member, American Impressionist Society 2009
Signature Member, PaintAmerica 2007
PaintAmerica Top 100 and Top 50 Mini Winners 2008
PaintAmerica Top 2nd 100 Winner 2008
Paint the Parks Top 2nd 100 Winner 2008
Paint the Parks Top 2nd 50 Mini Winner 2008
Paint the Parks Top 100 Winner 2007
Paint the Parks Top 2nd 100 Winner 2007
PaintAmerica Top 100 Winner 2007
PaintAmerica 2nd Top 100 Winner 2007
C. Waldo Love Memorial Award, Artists of Colorado, 2007
Signature Member, Pastel Society of Colorado 2006
PaintAmerica Top 100 Winner 2006
Arts for the Parks Top 100 Mini Winner 2006
Arts for the Parks Top 200 Winner 2004
Associate Member, Pastel Society of America 2004
Second Place, Pastel Society of Colorado, National 2004
Best of Show, Pastel Society of the Northern Rockies, 2003
First Place, Pastel, Parker, CO 2003
Second Place, Pastel Society of Colorado, National 2004
Second Place, Pastel Society of Colorado, National 2003